Best 6 Valentines Photo Shoot Ideas You Should Try
The most romantic day of the year is closing in on us. Expectedly, we're all in a rush to find the perfect gift for the ones we love. But do you know that a valentine's photoshoot can be more personal and special than any gift you can think of? And beyond question, there's no better time to start exploring love-themed valentines photo shoot ideas, inspirations, and tips than now. If you perhaps find yourself in this scenario, don't fret – we've got you covered. Join us as we range over some of the perfect valentine's photo ideas for you.
6 top valentines photo shoot ideas 2022
1. Create a close, personal and intimate atmosphere
Getting close, intimate, and personal with your significant other is the first step towards achieving a memorable valentine photo shoot. You can convey intimacy in countless ways, whether via capturing affection displays of your partner or shooting a close portrait of one another, kissing, holding hands, or making intense eye contact. To get the best body language, relax and flow with the moment. Make yourself vulnerable in the setting with diffused paper lanterns or candles.
2. leverage Valentine-themed flowers and balloons
Flowers, as we know them, are heralded globally as love symbols. Of course, we've seen this in countless valentine's photo album or photographs, as the trend of nature and plants have always been great conveyors of love and intimacy. Similarly, the same could be said about red valentine balloons. So, try leveraging flora and fauna, as well as valentine-themed balloons as your valentine photo shoot background. However, note that you dint have to limit the balloon to red – channel your inner creativity and explore suitable color combinations. As you delve into the perfect valentine's photo ideas, consider the allure of unique filming locations that can add an extra layer of romance and personalization to your love-themed photoshoot.
3. Casual indoor photo shoot
A valentine photo shoot doesn't have to be too serious or even outdoors. If you and your partner are textbook home buddies, why not opt-in for an indoor and a more subtle setting? Not only will this ease you in front of the camera, but you also get to choose settings that best fit your personality. Besides, it will rid you of the stress of getting an outdoor location set. To achieve the best result, you must consider a few conditions. Firstly, avoid distracting in the background as much as possible. Next, ensure you're using the right props to set the best mood. Lighting is also key to achieving the best output.
4. Capture and recreate your first date
For your valentine photo books, this can be a great idea. Of every romantic milestone, your first date is probably the most beautiful memory you too had. But unfortunately, there's a considerable tendency that you both don't get have any pictures of the memory. So, why not change that now? If you can't visit the exact spot, get creative and pick other milestones and memories you can recreate.
5. Get creative with the compositions
The beauty of photography lies primarily in your composition. Essentially, in a valentine's photo shoot, composition represents your approach to arranging objects around the frame and their combinations with the visual elements. For your valentines photo shoot, you need to cater to this element and ensure every color, flower, balloon, props, etc, all blend and reflect the theme of love. By sticking to this, you can easily capture a professional valentine picture with natural image balance.
6. His and hers clothes
These are all the rage today – you'd see them almost everywhere. While some believe it's pretty cliché, the idea of his and hers clothing is one you should probably explore, if you're lacking in outfit ideas. Matching couple clothes is excellent to display affection towards one another. It simply indicates that you are in love and harmony. However, when choosing outfits for this idea, be sure to choose something that doesn't deviate from the original composition and idea you've envisaged for the shoot.
How to change background of valentine's photo
Now, assuming you've completed your valentines photo shoot. But one problem, your background doesn't fit the overall theme. Don't fret! You can actually use a background remover to eliminate the background and replace it accordingly. One tool for this effort is VanceAI Background Remover. Essentially, Background remover is an AI-powered background remover that helps you replace image background images without taking a toll on their overall quality. Looking to change your image background? Here is a user's guide below.
Step 1: Using the available upload options on the background remover, upload valentine photo shoot image that requires the process.
Step 2: Select start to process, and wait as the AI background remover automatically eliminates background from the image.
Step 3: Click on the edit button, to enter the intuitive image editor, where you can edit the background into the image or even set various metrics as you deem fit.
Step 4: Upload the background image. You can do this by selecting a background that aligns with your theme from your storage options.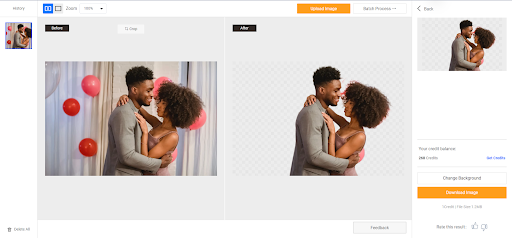 Step 5: Download the result from the background remover. You can process more than one photo and make them into valentine's photo books.
Conclusion
With valentine's fast approaching, a valentine's photo shoot is one journey most people find difficult to navigate. However, you can make the road hassle-free if you want to – you only need the right knowledge. With that said, in this guide, we ranged over free ideas you should definitely consider before approaching your Valentine's photoshoot. However, if you've already completed the valentines photo shoot; however, the image background doesn't align with the theme, do well to use Background remover and replace the image with the background of your choice.