Know All About Elton John Husband David Furnish's Credentials!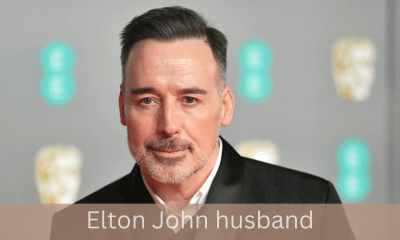 For once, it's not the 'Can You Fell The Love Tonight' hitmaker who's in the eye of the storm! Rather it was Elton John husband, the reserved Canadian filmmaker – David Furnish, who was garnering all the bouquets and brickbats. From his recent podcast with Beth Rigby on AIDS patients and their work in Ukraine to Piers Morgan lambasting him for his response to J.K.Rowling's comments on transgender people to the John-Furnish couple stating that they have no plans as such to welcome a third baby – there seems to be too much news around.
This article will give you some closer insights into the filmmaker cum-former corporate executive's life and also depict the relationship timeline of the couple and the causes that the man of one of the world's most notable singers stands up for. Scroll down –
Who is Elton John husband?
Christened David Furnish at birth, he holds a Canadian passport and was earlier involved in the advertising field. His previous credentials include his tenure at – Ogilvy & Mather and his notable contributions to magazines like GQ and Tatler. Last known, he regularly acts as a columnist for Interview. Currently, apart from his own set of professional commitments, he also serves as – the head of the Elton John AIDS Foundation and acts as co-executive to John's long-running Rocket Pictures (film company).
Apart from this, he is also credited with directing a documentary – Elton John: Tantrums and Tiaras (1997), and producing unique films, such as Gnomeo and Juliet (2011) and Pride and Predator (2009). Also, he is one of the globally noted activists who has put forth his views on multiple topics and have garnered praise. Let's check out why he has been in the news recently –
Why has he been in the news lately?
David Furnish, though is a man of few words in real life; when it comes to talking about social issues, Elton John husband does know how to put forth his point.
He has spoken openly about HIV and AIDS and the stigma surrounding it. As one heading Elton John's AIDS Foundation, he has ranted not just about the insensitivity of people but also about how countries have been uncharacteristically not supportive of their rights. This has automatically led him to question the Western countries regarding the LGBTQ rights that they have provided or claimed to provide their citizens and their current status.
Another domain where he spoke up for the marginalized was – during Elton John's Oscar party – where he criticized the USA's anti-drag and anti-trans laws.
Recently, he was also in the eye of the storm when he stated that they had turned down the Super Bowl event. He justified the same, stating that it was simply due to the lack of ability to perform that had made him turn down the offer.
A quick look back into his achievements
Elton John husband, David Furnish, may now be known by the name of his 'way too famous' partner, but he is a man who has already earned his credibility. 15 years younger than John, David was born in Toronto, Ontario, on October 25, 1962. He has 2 brothers, one elder to him and another younger. After he completed his graduation from the Sir John A Macdonald Collegiate Institute, he went on to earn a degree in Business Administration from Ivey Business School.
He started his professional career with Ogilvy & Mather and soon went on to become the youngest Director of Accounts Services in the firm's history. Along with his multiple contributions to a range of magazines, he was also noted to be one of the GQ's Top 50 Best Dressed Men In Britain. He showed his solidarity while celebrating the Stonewall Riots and was held as a trailblazer in the domain of standing strong in favour of queer people.
His views currently are well noted and broadcasted globally, making him a man worth noting.
A Timeline of his love story with Elton John
Not many know that David, since his childhood, had been suffering regarding his sexual identity. Since things were closeted back then, therefore, he could not express his thoughts. It was only when he made his relationship with Elton official that he, along with others, could accept the truth behind his sexuality.
The pair first met in 1993
Quite like the best of romantic stories, the couple first met at a dinner party at a common friend's place. Elton was immediately attracted to his now-husband, and his independence was the biggest draw.
The couple followed it up with a second date where they ordered Chinese takeout. After that, they started dating formally.
The proposal in 2005
Elton John husband was proposed to by John at a dinner party after years of being together.
Civil partnership in 2005
Since London did not accept same-sex relationships, therefore, they registered their civil partnership at the Windsor community hall.
First anniversary in 2006
They celebrated the anniversary of their civil partnership with a date night in 2006 that made the news.
The couple wanted to start a family in 2009
They visited Ukraine to adopt a baby, but due to certain legal and sociological reasons, this plan did not work out. After much struggle, they decided to start a family by surrogacy. After that, they finally became parents to two baby boys.
They welcomed their firstborn in 2010
After declaring their civil partnership, they welcomed their first child via surrogate – a baby boy named Zachary Jackson Levon Furnish John on Christmas in 2010. John also revealed that they did skin-to-skin bonding with Zachary to familiarise him with their touch.
They welcomed their second child in 2013
The couple, via their surrogate, welcomed their second child Elijah Joseph Daniel Furnish John, on January 11, 2013.
They formally got married in 2014
The couple married formally at Berkshire, in their Windsor estate, after 9 years of their civil partnership. Their kids served as their ring-bearers. This wedding was attended by Ed Sheeran, Ozzy Osbourne, and the Beckhams.
Since then, the couple has been going strong and assuredly have put forth their commitment to one another before the world.
Their relation with their kids
Recently the couple was in the news when they were questioned whether they would consider having another baby. While Elton John husband and John himself vehemently refuted the same, they additionally stated that they were quite occupied by their sons already and would rather concentrate on bringing them up well. They categorically stated – "They're our primary concern. They're the things that come first and foremost."
For those who've come in late, David and Elton share two kids – Zachary Jackson Levon Furnish-John(12) and Elijah Joseph Daniel Furnish-John(10). Both the sons of the couple were born via surrogacy, and though they keep their kids quite under the radar, recently, David shared a picture of their kids. Lady Gaga serves as their Godmother.
The family often goes out for dinner dates at Pizza Hut, kids' games, winter vacations, and skiing expeditions.
In multiple interviews, both Furnish and John stated how lucky they were to be blessed with the kids and that, despite all their glitz and glamour – how they wished to give the kids a simple life. To stand true to their rules, the couple gives their kids 3 pounds each, wherein they have to save and give to charity 1 pound each. It is only 1 pound that they get to spend on themselves. The John-Furnish couple does ensure that their kids get the desired values while growing up and try to proceed accordingly in their life.
Wrapping up
The relationship that Elton John husband has with his better half, the noted 'Cold Heart' singer, is based on equality. In one of the old interviews, Elton John stated that meeting David Furnish was one of the best things that ever happened to him because – he realized that this love was not based on any kind of need or necessity but rather the feeling of loving unconditionally. With their kids in tow, the couple has set up a lovely home. With new ambitions in their world, they seem to want more and looking forth to living a fulfilling life.
If you are an Elton John fan, then did you like this content? Then do leave your comments below. For more exciting content like this – keep following Biography Talk.