Skin Care || How To Build The Best Routine
Having flawless skin is not just about genetics, it's also about our everyday habits. It could be what we eat, what we apply, and generally how we handle our skin. When it comes to our skincare routine, though, there are so many product evaluations and perspectives that it's difficult to know what to do or how to do it.
The good news is that your daily skin-care regimen does not have to be difficult or costly. One of the easiest ways is having your water bottle always for hydration. In reality, your skin-care routine only requires three key steps which will be discussed below.
Cleansing Your Skin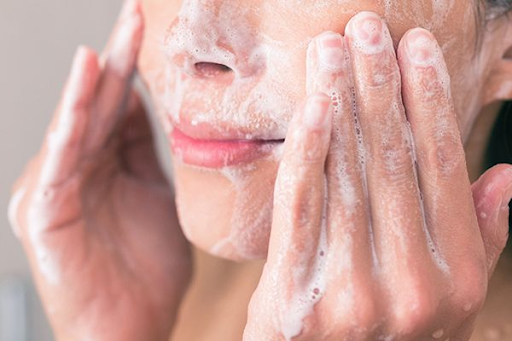 With all of the environmental stresses your skin is exposed to on a daily basis, a morning and night cleansing routine is very essential. A healthy skincare program starts with a good cleanse. It is important to note that excessive debris buildup on the skin's surface can lead to pore blockages which allow bacteria to infiltrate and cause irritation and acne. 
Maintaining sufficient hydration on the skin also necessitates regular facial cleansing. You can use a hydrating cleanser which works by gently removing makeup and embedding impurities while leaving skin wonderfully smooth.
Another way of cleansing your face is the one recommended by most dermatologists. That is  gently washing your face twice a day for around 60 seconds each time. Stick to lukewarm water and stay away from any manual exfoliants. In case your skin is dry or ultra-sensitive, confine the cleanser to nightly usage only and wash with water in the mornings. The result will be maximum gentleness and minimal peeling.
Toning Your Skin
Toner was originally created to restore the pH balance of the skin after cleansing with soaps that were extremely stripping. But currently, cleansers are generally pH balanced, and toners are used for a variety of purposes.
When the toner is applied with a cotton round, it takes up any excess dirt that was missed during cleansing. Second, skincare products work best on damp skin, although most people dry their faces completely after cleansing. Toners also aid in the re-dampening of the skin. Toning can also be thought of as the initial layer of hydration.
Using Serum
While serums aren't required for good skincare, many physicians and estheticians adore them for their focused capacity to address specific skin disorders. Serums can help with skin-plumping, brightening, moisturizing, acne-fighting, wrinkles, and fine lines, among other things. It contains hydraulic acid and vitamin C. Other Serums contain vitamin C and antioxidants. 
It is recommended that you use an antioxidant serum in the morning. The serum is also ideal for anyone concerned about hyperpigmentation or any other age indicators. To brighten and moisturize the skin, the serum contains vitamin C, ferulic acid, vitamin E, and hyaluronic acid.
Moisturizing Your Skin
Moisturizers are the most important skincare product, according to research. The main purpose of a moisturizer is to hydrate the skin and leave it soft to the touch. Sun protection factor, is sometimes added to moisturizers making them even better.
You can use a moisturizer in the morning or at night depending on your schedule. Before applying any makeup, a moisturizer should be used as the final step. You should apply the moisturizer right after the serum. Moisturizer can also be used as the final step before retiring to bed. After the serum, apply the cream. 
If you're not using a serum or toner, use a moisturizer immediately after you've cleansed your face. Apply moisturizer to the critical regions of your face, such as the forehead, nose, chin, cheeks, and neck, with your fingertips. Begin massaging the moisturizer into your skin with a swirling motion until it is completely absorbed. Before applying makeup, allow the moisturizer to dry.
Using An Eye Cream
Night creams are often thicker in texture to provide deeper hydration to the skin. Furthermore, night moisturizers contain chemicals like retinol, which encourages skin cell turnover. Retinol, on the other hand, is rarely used in day creams since it can irritate the skin when exposed to the sun. 
Avoid using beauty products that can affect your eyes. If you decide to use artificial lashes on the bottom part of your eyes, confirm with your lash technician where to buy bottom lashes that are not harmful.
Every morning and evening, a good percentage of women use an eye cream. Under the eyes is one of the most prevalent sites for fine lines and wrinkles. Sun damage, lack of sleep, dehydration, and other factors can cause fine lines and wrinkles around the eyes. Eye creams can help moisturize, hydrate, brighten, firm, and tighten the eye area while also providing vital antioxidants.
Using Sunscreen
Serums, SPFs, toners, primers, and highlighters are now used by 70% of people to improve their skin. This is a developing beauty step that has been very crucial in the last few years. Sunscreen is good for your skin because it aids in the prevention of fine lines and wrinkles, It also helps in the prevention of skin discoloration. Skin cancer is on the rise, and sunscreen has been proved to reduce the risk of developing skin cancer.
Conclusion
Generally, you may make your regular skin-care routine as difficult or as easy as you like. You're basically fine to go as long as you follow those basic measures and don't do anything that irritates your skin. Always use the right makeup tools to prevent injuries and irritation. If you have any questions regarding the best way to put together a routine that works for your skin, consult a dermatologist.