Jojo Siwa Net Worth 2020, Rise To Fame, Awards, Biography And Lots More
Jojo Siwa Net Worth 2020
Joelle Joanie Siwa, popularly known as Jojo Siwa, is an American dancer, singer, actress, and YouTube personality (Vlogger).
She is also a famous Nickelodeon television series Star, just like Riele Downs, Lizzy Greene, etc.
Keep reading to unveil Jojo Siwa net worth 2020, early life, career, rise to fame, awards, and lots more.
ALSO CHECK OUT: Jace Norman Net Worth In 2020, Awards, Biography And Lots More
Jojo Siwa Early Life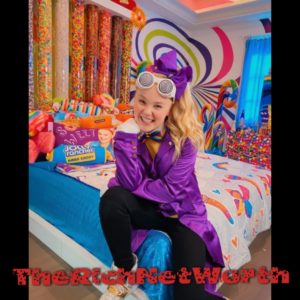 Joelle Joanie was born into the family of Dr. Tom Siwa (father) and Jessalynn Siwa (mother) in Omaha, Nebraska (United States), on May 19th, 2003.
Her father was a Chiropractor while her mother was a professional dance instructor (no wonder Jojo is a good dancer).
Jojo Siwa also has an elder brother named Jayden Siwa (a professional vlogger).
ALSO CHECK OUT: Riele Downs Net Worth 2020
Jojo Siwa Career
Jojo Siwa started her career at a very young age as a dancer with the help of her mum.
She first participated in Abby's Ultimate Dance Competition but got eliminated in week nine as the competition was fierce.
Then in 2015 (age 12), she started appearing on Dance Moms (a life reality show), which boosted her fame.
Then in 2016 (age 13), she ventured into music and released her first single titled I Can Make You Dance, followed by Boomerang, which was a hit getting over 450 million views and still counting.
In 2017, Jojo Siwa signed up with Nickelodeon and became a star super fast!
Here's a list of Jojo Siwa achievements so far according to Wikipedia;
Singles And Albums
Boomerang (2016)
Kids In A Candy Store (2017)
Hold The Drama (2017)
Every Girl's A Super Girl (2018)
High Top Shoes (2018)
Only Getting Better (2018)
[Album] D.R.E.A.M. The Music (2018)
[Album] Celebrate (2019)
Bop! (2019)
TV Series
Abby's Ultimate Dance Competition (2013)
The View (2015)
Good Day L.A. (2015)
Good Day New York (2015)
Dance Moms (2015 – 2016)
Nickelodeon's Ultimate Halloween
Costume Party (2016)
Make It Pop (2016)
Bizaardvark (2016)
The Thundermans (2016)
Nickelodeon's Not-So-Valentine Special (2017)
Nickelodeon's Ultimate Halloween
Haunted House (2017)
Lip Sync Battle Shorties (2017)
School Of Rock (2017)
Jojo Siwa: My World (2017)
The JoJo and BowBow Show Show (2018)
JoJo's Dream Birthday (2019)
SpongeBob's Big Birthday Blowout (2019)
All That (2019)
JoJo's Follow Your D.R.E.A.M (2019)
Keeping Up with the Karadashians (2019)
JoJo's D.R.E.A.M Concert (2019)
The Substitute (2020)
The Masked Singer (2020)
Films
Blurt! (2018)
The Angry Birds Movie 2 (2019)
Jojo Siwa Awards
According to Wikipedia, Jojo Siwa has been nominated for awards seven times and won five.
Here's a list of Jojo Siwa's Awards;
Industry Dance Awards (2016)
Reality Television Awards (2016)
Nickelodeon Kids' Choice Awards (2017, 2018, 2019)
Jojo Siwa Net Worth 2020
Presently in the year 2020, Jojo Siwa's net worth is estimated to be $12 Million.
Jojo Siwa Best Quotes
There's always time to grow older. You can never grow younger.
Summary
Real Name: Joelle Joanie Siwa
Date Of Birth: May 19th, 2003
Nationality: American
Parents: Tom Siwa (Father) Jessalynn (Mother)
Occupation: Dancer, Singer, Actress, Vlogger
Siblings: Jayden Siwa
Spouse: Not Yet Married
Net worth: $12 Million
ALSO READ : (Spider-Man) Tom Holland Net Worth 2020