Online Trading: 5 Things To Keep in Mind Before Investing
The trading world has evolved and will continue to grow expeditiously in the coming years. What used to be a process that required in-person meetings and brokerage firms is now available at the click of a button. 
Before you get too excited and run off to create your online trading account, you must keep a few things in mind.

What Is Online Trading?
Online trading is buying financial instruments, funds, bonds, futures, derivatives, and stocks through an electronic platform. You can do this either on a mobile phone or computer.
While this seems easy enough, there are a couple of things to keep in mind before investing in online trading.
Advantages of Online Trading
Online trading has plenty of advantages, making it a popular choice for investors. Perhaps the most obvious benefit is that it's convenient – you can trade from wherever at any time of day or night.
Another advantage is that it's relatively cheap to get started. You don't need to pay hefty commissions to a broker, and plenty of free resources are available online to help you learn about investing.
You also have more control over your investment decisions when you trade online. When you buy stocks through a broker, they may give you advice – but ultimately, it's up to you to decide what you'll do with your money. 
Online trading allows you to make investment choices and manage your portfolio according to your goals and risk tolerance.

Learn About Trading
With so many options and platforms available on the internet today; it's easy to feel overwhelmed. Before you create your account on a trading platform, you must first understand the trading basics and how the market works.
Like getting started on Cardano price prediction, you don't have to be an expert; however, having a general understanding of specific market terms can help you go a long way. 
Study the markets 
Several free resources are available online, from in-depth articles and videos to introductory/intermediate articles on trading. Online trading can be volatile, which means you could lose money if you're not careful. Educating yourself on the risks involved with a trade could help you mitigate certain doom.
You could also use demo/practice accounts. These accounts on trading platforms mimic the real thing, except you buy stocks with play or imaginary money and test those trades under live markets. 
This can help build up your confidence and provide an opportunity to help you trade online without risking your money.

Create a Trading Plan/Decide on a Plan
One way you could set yourself up for success is by creating an investment plan. Having a clear-cut plan for the type of investments and why you're planning them will go a long way in helping you in your investment journey. 
Are you looking to grow your wealth over the long or short term? Are you looking at generating income through short-term trades? 
A plan can help you mitigate some risks involved with trading, whether online or with a physical broker.
A trading plan helps set the parameters for getting into and out of trades and can include the following:
Which markets do you want to trade in 

What are your strategies 

What are your trading goals 

What is your motivation for trading 

Look at the quality of a company and how well it fits in your portfolio 

What are your risk management tools 

Analysis of past trades 
Find a Broker
Another thing to keep in mind before investing is finding an online broker who offers services that meet all your needs.
There are several online and offline guides that can help you go about finding a broker. You should look for an online broker who offers customer service support and account and trade minimums.
Keep Your Emotions in Check
The trading market can be volatile. You need to be mentally prepared to ride the ups and downs.
When trading, you must ensure your emotions are in check. While getting swept up at the moment is easy, ensuring you're disciplined can help you have a better time trading.
This includes having realistic expectations. You might lose some money in the trade. A general guideline is to decide how big or small your risk appetite is and never go for a trade that surpasses your appetite. 
Once you have a plan in place, stick to it. Refrain from allowing emotions to get in the way of making logical decisions about your trades.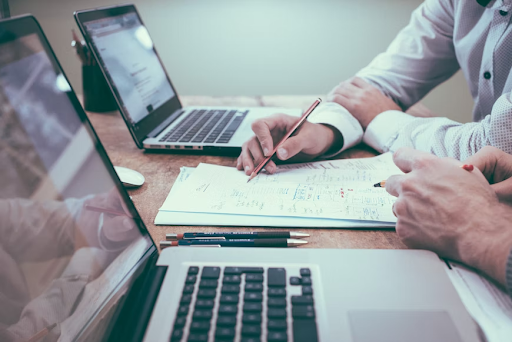 Ensure Your Account Is Secured
When it comes to trading online; there are a few risks involved. One such risk is the internet is not a secure place. Your financial and personal information can land in the wrong hands, costing you your investments. Find a trading platform that offers double authentication for authorization. This could be in the form of an OTP or any other password.
You could also go a step further and clear any cache and cookies. While this will mean you manually enter your password every single time, it's a low cost to pay for the safety of your investments.

Conclusion 
Millions of people trade online every single day. When you're just starting, it might be a bit scary. However, online trading can offer sizable profits when executed properly. Keeping in mind the following, you can significantly increase your odds of succeeding in the markets.