Bukayo Saka Net Worth in 2020, Biography, Girlfriend, Awards and lots more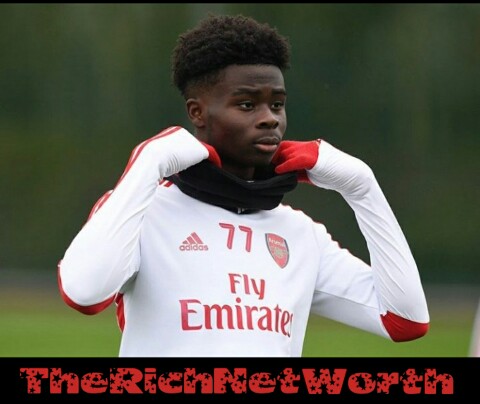 Bukayo Saka Net Worth In 2020
Bukayo Saka is an English footballer of Nigerian descent who plays for Arsenal football club in North London, England.
Bukayo Saka grew from the academy as a left footed wing-forward capable of playing on any wing, either left or right.
He has also shown his pedigree when deployed as a wide defender.
Bukayo Saka at just 18, cements himself as one of the best youngsters in the league and dare i say, the world.
It is testament to his quality that he is a regular in a star-studded arsenal team.
Read on to unviel Bukayo Saka net worth, biography/early life, career,awards and lots more.
Bukayo Saka Biography/Early Life
Bukayo Saka was born on September 5th 2001 in Earling, London.
Bukayo Saka grew up in Greenford with his parents.
Bukayo Saka comes from a family of four(4) which consists of him, his parents and his brother, Yomi.
His Parents are of Nigerian descents who moved to London in a bid to find greener pastures.
At a young age, Bukayo Saka was already attending Arsenal games as he'd go to games at the Emirates Stadium with his dad.
Bukayo Saka would then go on to join Arsenal's famous Hale End Academy at just seven(7) years of age.
Bukayo Saka himself reavealed he wasn't really sure if he'd ever make it into the Arsenal first team as a profesional but was only just focused on enjoying every moment he had playing football in the youth sector.
In a session with Arsenal's official site, the player said
"I just enjoyed playing, but I don't think I ever really thought I was going to make it to the first team until I actually signed my first professional contract when I turned 17."
"You go through the youth teams, year by year, and you see all these great players around you – some of them could be the best in the year – and slowly they are all let go, to other clubs or even stopping completely."
"So you could never be sure that you would make it, but what I said to myself is that I would always give my best in every single session"
Bukayo saka's drive and hardwork would set him apart in the midst of the other footballers in the academy as he became one of the most fearsome attackers in the academy.
Bukayo Saka Career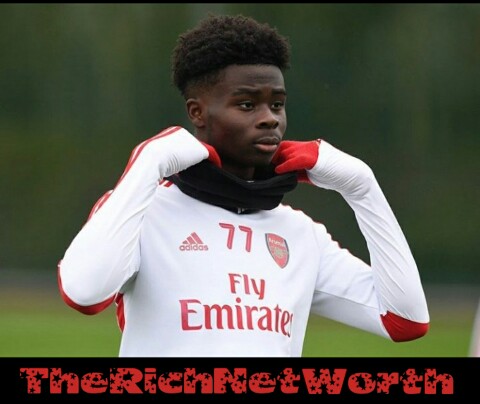 Bukayo Saka's Arsenal career can officially be said to have began on September the 18th 2018 when he signed his first professional contract with the Arsenal youth team.
On the 29th of November, 2018, Bukayo Saka made his senior debut against Vorskla Poltava in the Europa League as a second half substitute for Welshman, Aaron Ramsey.
He however had to wait over a month to make his Premier League bow having made the long anticipated Premier League debut on new year's day in 2019 against Fulham, also as a substitute but this time in place of fellow Nigerian descent, Alex Iwobi.
Bukayo Saka has since made major strides in his career, having cemented his status as a first team player already.
His breakthrough year is the 2019/2020 season where he has proven a game changer having, as of writing, scored three(3) times and bagged nine(9) assists despite being deployed as a defender for most part of the season.
You May Also Like: Latest Arsenal News
Bukayo Saka Awards
Bukayo Saka has not won any notable awards of yet. But at the rate at which he continues to grow, that is definitely only a matter of time.
Bukayo Saka Favourite Quotes
Here are some of the most memorable quotes from Bukayo Saka
I always wanted to learn to get better, I always watched a lot of football to see how I could improve.

I just wanted to play all the time

My mum and dad always encouraged me. They never stopped me from playing football, they just wanted to see a balance and that I was also interested in my education.
Bukayo saka Girlfriend
As of writing in the year 2020, Bukayo Saka is not in any relationship.
Bukayo Saka Net Worth In 2020
In the year 2020, Bukayo Saka is with an estimated $2.2 Million
Summary
Real Name: Bukayo Saka
Date Of Birth: 5th September, 2001
Nationality: England, Nigeria
Parents: Mr and Mrs Saka
Siblings: Yomi saka(Brother)
Occupation: Footballer
Girlfriend: N/A
Net Worth: $2.2 Million
You May Also Like: Arsenal Transfer News Latest